ASNC News
Modern language classes
Ash clouds and economic crisis notwithstanding, Modern Icelandic teaching continues to flourish in ASNC, thanks to a generous grant from the Icelandic Government. The informal classes cater for beginners and intermediate students and are open to all interested members of the University. These have included not only students of Old Norse but a wide spectrum of University members, reading subjects ranging from Zoology to Computer Science. The courses are organised by Vicky Cribb (Newnham, 1984; photo, right, with Halldís Ármannsdóttir), who worked for a number of years as a translator of Icelandic literature before embarking on a PhD in Old Norse back in ASNC in 2008. This Lent term, however, we've been fortunate to enjoy the services of Halldís Ármannsdóttir, an experienced language teacher and visitor to the Department from the University of Iceland where she is reading for an MA in Medieval Studies. Some of our students will be attending the
University of Iceland's popular summer course in Reykjavík this August, while others are applying for a grant to spend a year in Iceland on the BA course in Icelandic for Foreign Students.
A generous grant from the Irish government has enabled ASNC to offer modern Irish language classes to members of the University for a fourth successive year. These cater to all levels of expertise, with beginners' and intermediate levels taught by Deborah Hayden (Hughes, 2003; photo left), and an advanced group taught by Máire Ní Mhaonaigh. The classes attracted undergraduate, postgrad and affiliated members of the University, and work towards fluency in everyday settings. They will be available again next year.
Language courses and travel
ASNaC students continue to be able to travel during the vacations thanks to the H M Chadwick and Scandinavian Studies Funds. For the last two years they have also had access to University grants towards the cost of attending summer courses in ASNC-related modern languages.
Staff News
Alongside the year's round of teaching and admin, the ASNC staff have been busy in their various fields. Rosalind Love (John's 1984) ended a year's research leave last summer by attending the congress of the International Society of Anglo-Saxonists, in St John's, Newfoundland. The conference was great, but the unforgettable high point was a very adventurous day's 1000 km trip to the Viking settlement at L'Anse aux Meadows (now a UNESCO World Heritage site: picture left). Not to be outdone, Simon Keynes (Trinity, 1970) flew to Tierra del Fuego in November to take part in a series being made by a Dutch TV company, about a clipper retracing the route of the Beagle, to commemorate the voyage of Darwin (Simon's great-great-grandfather). You can watch the resulting film online at
http://beagle.vpro.nl/#/widget/afleveringen/15. Back in his more familiar habitat, Simon has been busy contributing in various ways to the debate about the so-called Staffordshire Hoard (see below).

In New York City this March, three ASNC members participated in a conference on 'New Directions in Medieval Scandinavian Studies'. Elizabeth Rowe gave a paper on the relationship between Icelandic annals and sagas, Eleanor Barraclough (Pembroke, 2003) spoke on the culture of Norse Greenland, and Jonathan Grove (Trinity, 1990) analyzed Ælnoth of Canterbury's Life of St Knut, the focus of his Postdoctoral Fellowship.

Paul Russell was on leave for Lent and Easter Terms and spent the time preparing the editions of the Irish Glossaries for publication, and being distracted by other things. He also made the most of the time to disappear to foreign parts. He gave a plenary paper at the West Coast Celtic Conference in L.A. on the Oxford text of Ovid's Ars Amatoria which is glossed in Latin and Old Welsh; he spent May in Paris as a visiting professor at the École Pratique des Hautes Études where he gave four lectures on multilingualism in late Roman and early medieval Britain and on Celtic personal names, and enjoyed the delights of the Institut de Recherche et d'Histoire des Textes; he's also spending late August and much of September as a visiting professor at the University of Connecticut.
Richard Dance has also been travelling: he was in Poland in December to lecture at the University of Warsaw. While he was there he even made it on to Polish TV (hurrah for Old Norse loan-words!).
ASNC currently has a very busy group of postdoctoral researchers. The postdocs have colonised the large room at the end of the ASNC corridor, thus ousting the Head of Department. The present occupants are Elizabeth Boyle (née White; Corpus 2002), who is in the first year of a Leverhulme Early Career Fellowship, David Woodman (Trinity,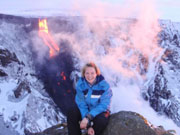 2000), part way through his British Academy Postdoctoral Fellowship, and Deborah Hayden (Hughes, 2003). ASNC is fortunate to have a second British Academy postdoctoral fellow, namely Jonny Grove.
The ASNC 'family' is extended by Postdoctoral Fellows at various Colleges, namely Mark Williams at Peterhouse, Rory Naismith (Trinity, 2002) at Clare, Roy Flechner at Trinity, and Emily Lethbridge (Emma, 1998). Emily has spent much of this year in Iceland, and was there when Eyjafjallajökull became a household name, as can be seen from the photo at left. We've also had the pleasure of welcoming back Geraldine Parsons (Trinity, 1993) on a year's leave from her new post in Glasgow to finish her Fellowship at Trinity. Alderik Blom (Peterhouse, 2002) has completed his Fellowship at Girton and now moves on to a British Academy Postdoctoral position in Oxford, at Corpus Christi.
The ASNC blog and Anglo-Saxon bling
In a bid to increase ASNC's public profile, Elizabeth Boyle recently started up an ASNC blog (http://anglosaxonnorseandceltic. blogspot.com/), which has already gained an enthusiastic readership, and has covered everything from ASNC-related news items, like the discovery of King Alfred's grand-daughter's bones in Magdeburg, to recent research projects in the Department. Most posts so far have been from grads and postdocs, but you'll also find there Simon Keynes's take on the Staffordshire Hoard, last year's great excitement (picture right). He says:
'The interpretation of this extraordinary find (perhaps more accurately called the 'Hammerwich Hoard', after the place where it was found) will depend in part on its composition, and in part on whatever can be established about its date ... but it's difficult to resist the supposition that it represents loot taken from an East Anglian army sometime in the 7th century, and brought back through the east midlands and along Watling Street into the heartland of the kingdom of the Mercians (the vicinity of Tamworth and Lichfield, Staffordshire).'
The aforementioned volcano disrupted the planned wedding of Rory Naismith and Brittany Schorn (Corpus, 2003), who had hoped to be married on 24 April but had to postpone until 5 June so that all the US guests could make it through the ash-cloud. As the photo of assembled ASNaCs below shows, all turned out well in the end.